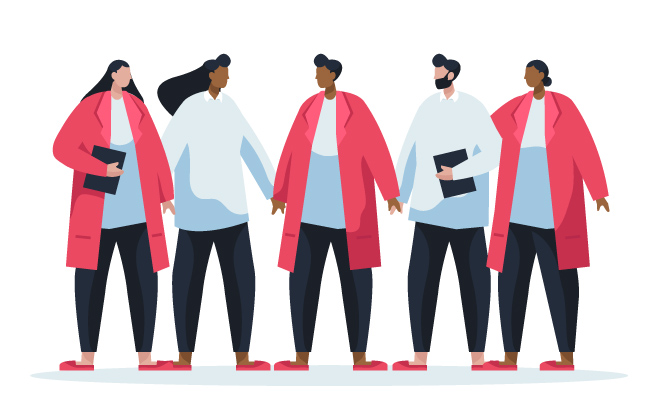 Who We Are
CompMed

offers a great career with exceptional benefits

.
CompMed is an equal opportunity employer and offers careers at all levels of the organization. Anywhere from entry level data processing to top tier management roles. If you are interested in a position with us please check out our Current Openings below and submit your application!
Become a part of our
Team
Here at CompMed our main focus is developing our employees that will in return provide exceptional service and results for our clientele. CompMed strongly believes in investing in training to prepare our employees for the future. Each role at CompMed plays a significant part to the overall success of our company, so we believe in providing each employee with the most resources and knowledge possible to ensure they can operate to the best of their abilities. Our fast-paced, ever-changing environment provides our team members with constant learning and growth throughout their careers with us.
We currently employ over 200+ team members nationwide. CompMed offers employees the opportunity to work from home while still feeling like a part of the team. Our company culture centers around teamwork and communication. We believe in focusing on the value in our employees and the skills that each and every one of them brings to the table. Their own diversity, goals, experience, and perspectives helps CompMed navigate the constant changes in the medical field and helps us prepare for the future.
CompMed is a great company to work for. They care about each individual employee, and you do not feel like just another number. They provide a caring, helpful, and supportive environment to work and grow in your career.
Samantha Litmer
CompMed has provided an environment for me to grow and learn throughout my 20 years with the company. Even after 20 years I am still given opportunities to take on new systems and projects that expand my knowledge base.
Tracey Carl
CompMed values their employees and treats them with respect and appreciation. Our teams are more like families than co-workers. Working at Comp-Med has allowed me to spend extra time with my family not having to commute to and from work on a daily basis. There is always room for professional growth within the company as well. I love my job and the company that I work for!
Leah Biddle
CompMed is a truly amazing place to work. I have always found the support and encouragement I need in any phase of my employment here and have enjoyed the challenges each day brings. This has helped me to grow as a manager and as a person. I've been very fortunate to work with many really great people and look forward to the continued growth of the company.
Elizabeth Haas
CompMed has given me numerous opportunities to grow professionally and personally. I am thankful to have found a company who over the years has helped me develop my knowledge, skills, and abilities to become successful in my current role. I began working for CompMed in 2016 as a part time receptionist and with support and encouragement from the company within 2 years I was able to finish school and take on a full-time role in the HR and Finance department, ultimately leading to my current position as VP of the department. I couldn't be more grateful for the opportunities and experience offered by CompMed.
Kayla Fey
I have been with CompMed just over 6 years now. I was given the opportunity to advance my professional career development by finding a role in the company that suits my interests and abilities. While starting off in the Credentialing Department, I have taken on responsibilities and challenges which inspire me to develop and learn new skills and abilities. Management took notice of my hard work and has given me promotions within the Department. CompMed is a great company to work for promoting life work balance by offering Flex Time and a generous amount of PTO. I also enjoy the Health Benefits and 401K Program. I look forward to many more years of employment with CompMed
Brad Wessel
Senior Credentialing Specialist
Working with CompMed has been an absolute joy and it gives me peace of mind to work for a company that visibly cares about its employees. I can do what I love to do with a company I'm proud to work for.
Ryan Just